Services
Marketing solutions that make sense for your business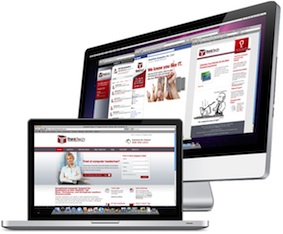 Many small businesses find it challenging to bridge the gap between their budgets and marketing they need to attract more customers for a better bottom line. That's where Bolt Marketing comes in, with affordable, turnkey marketing solutions that deliver measurable results.
Services from Bolt Marketing include:
Complete Website Redesign
See Our Beautiful Theme Choices We'll start from scratch to design, create and implement your brand new website.
Website Refresh
If your website is out of date, problematic or simply needs a facelift, we can redesign it all.
Website Suggestions
Trust our expert consulting to figure out how you can get the highest return on your website investment.
SEO Analysis & Assistance
We use Search Engine Optimization techniques to increase your visibility and bring more visitors to your site.
Social Media Account Creation

Stay connected to colleagues, customers and potential customers with Facebook, Twitter, LinkedIn and other social media giants.
Social Media Management
We handle it all, from status updates to profile creation, so you don't have to worry about a thing.
Social Media Campaigns
Bring in more business with targeted marketing by utilizing today's most popular online tools and our expertise.
Email Marketing Campaigns
Contact a larger audience and attract attention to your business with professional, informative email blasts.
Newsletters
Keep in touch with your customers and let everyone know what's going on in your business with a professional newsletter.
Press Releases
Announce your latest company news and events with professional press releases that get you noticed.
Client Success Stories
Bring your business trust and credibility with case studies about how your company has helped customers.
Branding
Identity and branding services give your business a memorable image that potential customers won't forget.
Company Collateral Refresh
& Design
Update your obsolete marketing materials and give your business a fresh new image.
Event Marketing
Get the word out about your next big event, with Event Marketing solutions that will help you create a buzz.
Vendor Relations & Management

Bolt Marketing is your single point of contact for all things marketing, so you never have to deal with third-party vendors.

When you partner with Bolt Marketing & Social Media, you don't have to worry about a thing – we'll take care of your marketing from start to finish, so you can focus on doing what you do best – running your business.